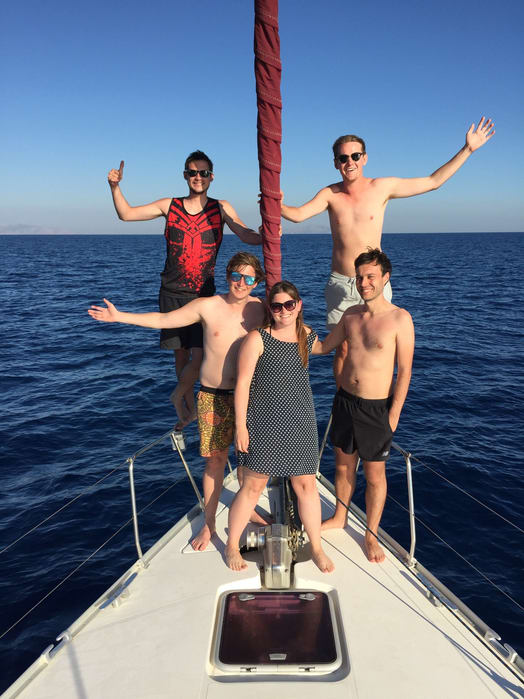 Yes – why go on a sailing trip – one may ask. When I started the company, I invited a friend to join me, and he felt almost insulted: "I'm not that old!" he replied…  Is sailing for elderly people only? Would one be bored on a sailing trip? Here are my (of course biased) answers to this…
Sailing is for every age, and it requires a relatively good fitness level. One should be able to walk the plank to board the boat, and good swimming skills are handy because we're mostly on the water (and in the water). Don't worry though, you will never have to swim back to the shore if the boat sinks, that only happens in the movies 🙂
So, who should be sailing?
Are you single? You can meet someone new – we had quite a few love stories on our boat, some quite romantic, including serenades and flowers left on the gangway…
Want to celebrate your birthday or a milestone in your life? We did that a lot, and we love to make people feel special.
Want to be with your best friends? What better place than sharing a boat, like the group in the picture did, and had a great time together?
Want to rekindle your relationship or just go on a honeymoon trip? Done that too….
Family with kids, parents and grand parents? Of course!
See? Sailing is for everyone. Well, not really 🙂 If you love your five star hotels and can't stand the heat of the summer, or you got so attached to your cell phone that a few hours with no signal are life threatening, then no, this won't be fun…
What can you do to keep entertained on a sailing trip? First – RELAX! Take the time to decompress from your real life, sit back and enjoy just looking at the water and taking all the scenery in at a slow pace. At the end of the trip, every cell in your body will thank you for it! You can party, swim, snorkel, hike, bike, run, play with your kids, watch the stars with your loved one, eat some good food – be like an explorer on a different island every night. You may even awaken the pirate in you, we are always looking for help!
Did I convince you? Then go check out our our offers at maramartravel.com  and email us with any questions! Happy sailing!